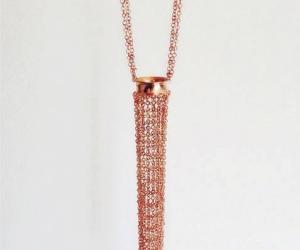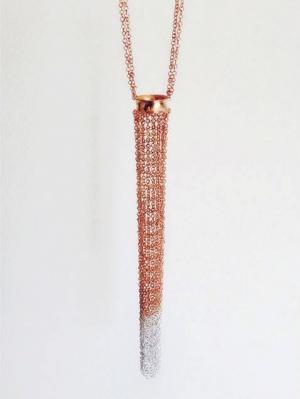 Standard
Isobel Sippel has been working with fabric for over 30 years. She uses this material to its limit, investigating the lengths to which her design process may stretch the boundaries of the uses of fabric. She currently uses the shibori dyeing technique, to create pillows, scarves, tablecloths and bags. Sippel also hand knits many of her products, with the help of Rose Makome, originally from Komatipoort, who assists by knitting and crocheting in her spare time.
Kruger has been creating jewellery since the age of 14. She studied Jewellery Design and Metal Techniques at the University of Stellenbosch, and graduated Cum Laude with her MA Visual Arts in 2014 from the University of Stellenbosch. Kruger embarked on an exchange program with the University of Amsterdam in 2012 as part of her masters studies, and went to work as an intern at Galerie Louise Smit, a contemporary jewellery gallery in Amsterdam. Her new range stems from her masters degree collection, incorporating themes of identity and hybridity in contemporary South Africa.
Kruger also curates an online gallery/showcase of South African contemporary jewellers. She is interested in promoting contemporary jewellery as an art platform in South Africa. View the showcase here: www.galeriecarlamaxine.com
This mother and daughter team has been working together in the Cape Town design scene for more than 10 years. Before Kruger went to university in 2006, they had a jewellery company, O-So-Pretty! Jewellery, that stocked many Cape Town boutiques and exported to the UK and USA, as well as creating jewellery for Cape Town Fashion Week 2006.