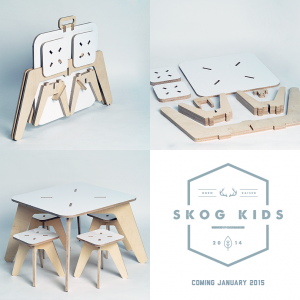 Standard
Skog is a kids furniture brand founded on the simple virtues of honesty and pride - honesty in who it is and pride in what it does.
Skog kids furniture is the end result of three creative, rebellious, design conscious guys with different fields of expertise coming together and producing cool stuff. The furniture is designed by the kids within us, for kids.
Ergonomically correct and nice to look at, the furniture is both practical and beautiful. What makes Skog extra special is that it comes flat packed and assembles without the use of screws and glue.
Skog is manufactured from high quality European Birch plywood and can be used both indoors and outdoors. The whole process from design to manufacturing is done in South Africa and it prides itself on making sure its handwork is of the best quality.
Skog aims to make the kids room a well-designed space that stimulates childrens' creativity while using the comfortable kids furniture.