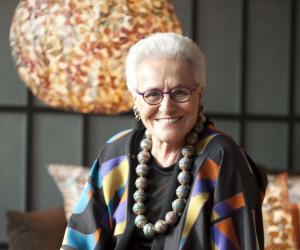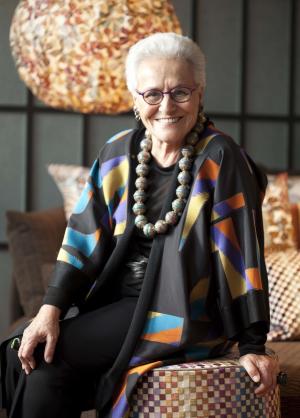 Speaker
Rosita Jelmini was born in 1931 in Golasecca, in the province of Varese, to a family of textile industrialists who produced shawls and embroidered fabrics.
In 1953 she married Ottavio Missoni and together they launched and developed a knitwear business in a small workshop in Gallarate. They later moved to the company's current headquarters in Sumirago (Varese), where Rosita created the lines of clothing while Ottavio designed the fabrics. By the 60s, Missoni was at the cutting edge in Italian fashion.
Their first fashion show, held in 1966 at the Teatro Gerolamo in Milan, was an enormous success thanks to the presentation of a collection that broke away from traditional paradigms in the use of knits. This was followed by fashion shows at the Palazzo Pitti and Milan, and then the company's launch in the United States.
In 1969 Missoni won over the American press thanks to Diana Vreeland, editor-in-chief of Vogue at the time.
The Missoni style, filled with zigzag motifs, stripes, waves and space-dyed yarns in jacquard patchworks, was defined by the American public as "put together".
In 1983 the Missonis debuted at La Scala as costume designers for Lucia di Lammermoor, making more than 100 costumes for the opera.
In 1997 Rosita handed the business down to her sons Vittorio and Luca, and to daughter Angela for the fashion end, devoting herself to the Missoni Home line of which she is still creative director.
In 2006 Missoni and Rezidor SAS signed an international licensing agreement to develop a new luxury brand in the hotel industry: Hotel Missoni. The first three were opened within two years in Edinburgh, Dubai and Kuwait.
In 2014 the Italian president awarded her the country's highest honour, Cavaliere al Merito del Lavoro, the Order of Merit for Labour. Over the years, she has received numerous other prestigious artistic, academic and fashion awards on a national and international level.