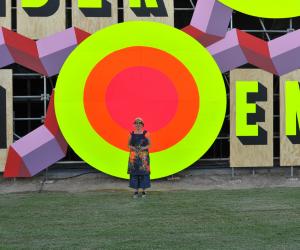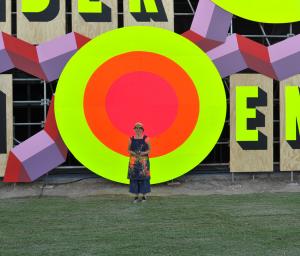 Speaker
Morag Myerscough's mantra is "make happy those who are near and those who are far will come".
Born and Bred, London, Morag has always lived in the city and has been fascinated by how colour, pattern and words can change brutal urban environments and peoples perceptions of spaces into places.
Her work is characterised by an engaging boldness, creating specific, local responses to each distinct audience that will see and experience the work, using it to create community and build identity. She often works with community groups to develop ideas that reflect the identity of the users, drawing on shared cultural history and heritage of the local area. These collaborations have resulted in some strong permanent installations in hospitals, schools and libraries.
Myerscough is known around the world for her distinct approach making large scaffold structures adorned with neon geometric patterns and shapes often incorporating positive messaging hand painted onto plywood.
The eclectic breadth of her work includes the Temple of Agape London 2014, Mirar y ver a camera obscura in Mexico City 2015, Superstucture Sweden 2015, Wide Open Austria 2016, Super Hot structure Romania 2017, Joy and Peace two installations London, UK 2017, Power — permanent installation, Battersea Power Station London, UK 2017 and Surrender to its Warm Embrace installation Las Vegas 2017. Morag is currently completing a 200m installation in a hospital in Sweden based on her mood tweets when she only spoke on twitter in colour for over two years.
Myerscough set up SupergroupLondon with Luke Morgan in 2010 and they collaborate on many of the structural art projects.
She is obsessed with 'Belonging' and talks around the world about it.