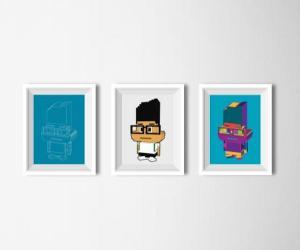 Standard
Mokoena Kobeli has a qualification in Art Direction from the AAA School of advertising and a BTech in multimedia from the University of Johannesburg. He is currently working as an art director at Neighbourhood Creative, a small advertising agency.
Kobeli plans to start a Johannesburg-based 2D animation studio. He has been the art director of animation work at his current job and will be using the skills and experience he has gained as the basis for his start-up, Nala.
While planning this business, he is currently using his illustration talent to create characters and associated merchandise alongside attempting to produce a TV series. The merchandise can be produced and sold relatively easily to generate revenue, test the appeal of the characters and to demonstrate business acumen. His aim is to create a truly South African 2D animated TV series for children.
* Mokoena Kobeli is part of the 2015 Department of Arts and Culture and SABS Incubation Programme, in association with Design Indaba.