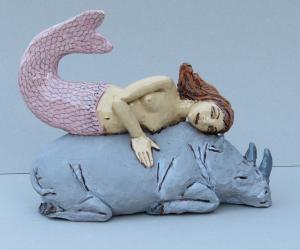 Standard
Maureen Visagé is a South African ceramic artist based in Cape Town.
Visagé's hand built ceramic sculptures feature women and African creatures and are inspired by fairy tales as well as religious and mythological themes. Her quirky creativity combined with technical expertise result in beautiful, entertaining artworks.
The Ukhamba collection draws on her African and European heritage. Combining two ancient crafts: African woven baskets and European origin crochet work, the collection sees a fusion of traditional and contemporary pieces.