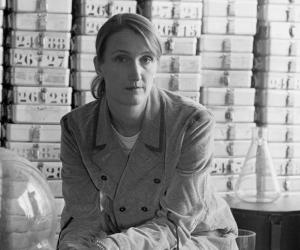 Speaker
Born in Sutton Coldfield, United Kingdom, in 1966, Lucy Orta is an artist and designer living in Paris. Trained as a fashion designer at Nottingham Trent University, Orta's early sculptural work examines the boundaries between the body and architecture, investigating their common social factors such as communication and identity. She invented Refuge Wear and Body Architecture (1992–98); Nexus Architecture (1994–2002) and Urban Life Guards (2004).
As a designer, she invents new architectures that physically connect people through fabric or protect them in tent structures and sleeping shelters. One of her projects began with Orta's interest in the food discarded from open markets in France, which she saw as a life-line for homeless, destitute and low-income people. Shocked, Orta first interviewed the people who gathered and appreciated the bruised, unsold foods. This became the framework for an ongoing series of connected projects. The first was Dans le Memê Panier (In the Same Basket), a public event attracting more than 1 300 people to an open-air buffet with over 300 kg of abandoned fruit. Moving between public arena and museum space, Orta views her projects for each as linked and inseparable.
In 2002, she worked on commissioned projects for the Victoria and Albert Museum in London; Musée de l'art et de l'histoire in Cholet, France, and the Centre for Contemporary Arts, Melbourne, Australia.
Awards Orta has won include the Sissel d'Or prize for Innovation, France, in 1993, and the Andy Warhol Foundation Grant, US, in 2001. She was appointed virtual fellow of the Edinburgh College of Art, UK, for 2000-2001. Professor Orta was a founding member of the Man and Humanity Masters in Industrial Design for the Design Academy Eindhoven (2002). This course is a pioneering programme that stimulates socially driven and sustainable design. She was invested as the first Rootstein Hopkins Chair at the University of the Arts London (2002–2008), and now holds the title of Professor of Art, Fashion and the Environment.