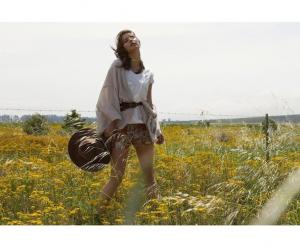 Standard
Lisp is a female boho-rock clothing label, created and owned by childhood friends; former model, Maria Paymans and fashion designer, Oriel Barnard. It is a lifestyle brand, fuelled by the vibrant multicultural South African creative scene. Lisp initially started as a creative sideproject in 2009. After being invited to showcase at Joburg Fashion Week A/W in 2010 and then at Cape Town Fashion Week S/S the following year, Lisp became a fulltime career and passion for Paymans and Barnard.
Lisp is a lifestyle. The rock 'n' roll baby, the free festival child - from sandy beaches to city streets. We aim to innovate, create and recreate, to inspire and be inspired.
Lisp is renowned for its chic festival wear and prints, ranging from fringed kimonos to summer dresses and shorts. Paymans and Barnard believe in supporting local businesses and having a hands-on approach in the whole production process. Their style finds expression in a mixture of both contemporary and old school inspirations ranging from rock 'n' roll legends to international fashion icons. The garments are produced locally and are unique in design as well as quality. Wear them dressed down for a casual festival look, a beach mission, or paired with some killer boots or heels for a night out rocking the city.