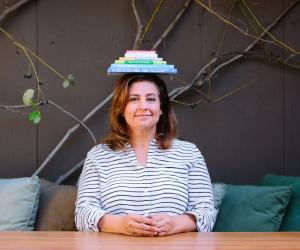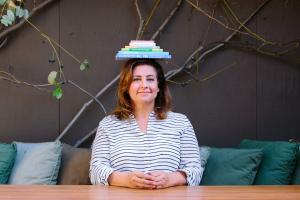 Speaker
The owner and founder of Knock Knock, Jen Bilik has a background in book editing, writing, design, and arts and crafts. Before she realised a career was something she might one day need, Bilik grew up handy in Berkeley, California, quilting with her mother and learning carpentry with her father. After high school, she attended the University of Michigan, where she majored in English literature and film studies.
After college, Bilik decamped to New York City and labored in various arenas before accepting an actual salaried job in publishing. Happenstance landed Bilik in coffee-table books, exciting mini-productions unto themselves with graphic designers, illustration sources, four-color printing, authors and copyediting. While serving as the point person for text on late-breaking books, she inadvertently enjoyed a series of deskside internships in graphic design. After a freelance stint that included editing many books as well as co-authoring two (Todd Oldham: Without Boundaries and Women of Taste: A Collaboration Celebrating Quilt Artists and Chefs), Bilik moved to Los Angeles.
Bilik founded Knock Knock in 2002 with the mission of creating interesting, smart, well-designed gift and stationery products that married the verbal and the visual, the intelligent and the saleable, the funny and the practical, including such product lines as Knock Knock Pads, Sticky Notes, Flashcards, kits and books. Knock Knock's sensibility is proudly distinct, in contrast to the overwhelming homogenisation and conservatism that characterise committee-created corporate products.
Knock Knock sells its witty wares directly to consumers via its website, www.knockknockstuff.com, but over 90 percent of its revenue comes from its wholesale accounts, boutiques and chains such as Urban Outfitters, Z Gallerie, and Barnes & Noble, comprising some 6 000 stores across the United States, not to mention Canada and the rest of the world. A team of about 20 now, Knock Knock is based in Venice, California.