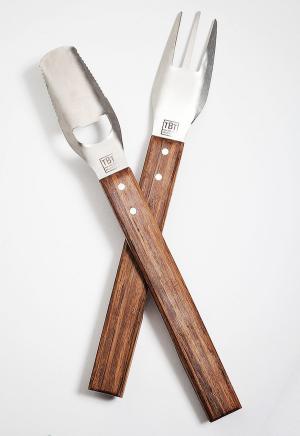 Standard
INSERT COOL NAME is a boutique design consultancy that helps companies and individuals navigate the tricky waters of product design, development, branding and market readiness as well as manufacturing and packaging. It provides product, service and experience design consulting to entities who recognise the value of design as a strategic part of the competitive edge.
INSERT COOL NAME's first project as a team turned out to be the best product of its kind. What started as a fourth year Industrial Design 5K Project at the Cape Peninsula University of Technology (CPUT) quickly became a viable commercial product simply called TBT – The Braai Tool. The entire concept was developed and ready to scale within a record four months. The Braai Tool has subsequently won first place in the annual CPUT Student Innovation Competition, Idea Create, in 2014. It has also been exhibited at Open Design, Thinkers & Makers and Transforming Cities.
TBT is a multifunctional braai utensil that aims to clear the clutter of cutlery drawers. In a year when the world's design eyes were fixed on Cape Town, the design team at INSERT COOL NAME designed, developed and marketed a product around one of South Africa's favorite rituals – braaing.
TBT was born out of the problem that our cutlery drawers at home are filled with single function utensils which function poorly and are now outdated. TBT solves this problem by incorporating five key braaiing utensils into one highly functional, sleek product.