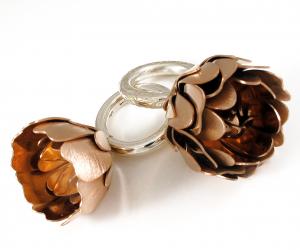 Standard
Elsje's collaboration with architect Gregory Katz and jewellery designer Philippa Green, Situ Diamond Jewellery, has revolutionised conventional metal settings by suspending diamonds in resin.
Elsje's designs are often crafted in collaboration with other creatives, giving her pieces a sense of universal diversity and international appeal.
With a broad portfolio of clientele including international artists, leading magazine editors and established fashion designers, it is easy to see why Elsje's designs have been described as everything from "daring street fashion" to "dazzling haute couture".
Elsje's oversized earrings and elaborate head pieces have graced catwalks around the world and have affirmed her as being one of the country's most accomplished jewellery designers.