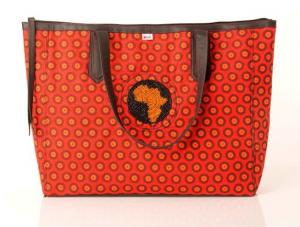 Standard
I Love Diepsloot is a creative community collaboration driven by innovation and a quest for sustainability. It manufactures a distinctive range of products that perpetuate the metaphor of second chances in the Diepsloot township. Plastic shopping packets, old billboard skins and rejected leather off-cuts get reworked and refined into a range of stylish handbags and corporate gifting products of the highest quality.
And, when upcycling is not an option, a fair trade approach is taken to ensure that the promotional and corporate wear ranges are as local as pap and sheba. From the cotton grown in Limpopo to the mill in Durban, I Love Diepsloot ensures that a local partner benefits from its business.
I Love Diepsloot has exhibited at the Business Opportunity and Franchise Expo in 2013 and won both the Best Eco-friendly Stand and Best Small Stand award. It is a black women owned co-operative of 31 people that has been operational since September 2012.