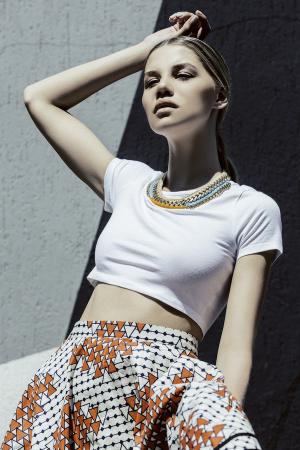 Standard
Upon completing her studies in 2007 in jewellery design and manufacture, Botha pursued her dream of going to study a post grad in fashion design in France. After almost three years of working for a top fashion house in Paris, Botha started to notice a great design movement among young creatives in South Africa.
Feeling that she had gained sufficient experience abroad, Botha decided that it was time to come home and and start her own brand and be a part of this creative evolution.
Botha moved back to South Africa at the end of 2012 with the intention of using her knowledge in jewellery design and manufacture and combine it with the skills of local crafters to create beautiful, modern jewellery indigenous to South Africa.
Botha has taken a new and original approach to African jewellery using bold and colourful beadwork combined with semi-precious stones and crocheting. Top quality brass chain is plated either gold or silver and embellished with crystal and semi-precious stones.
In 2007, Botha was runner up in the SASOL WAX jewellery division for students with her pieces being exhibited in the Johannesburg Art Gallery and the SA National Gallery in Cape Town. In 2014, she was selected as a Design Indaba Emerging Creative and was nominated by House and Leisure as one of their rising stars.
Henriette Botha is striving to push creative boundaries and influencing trends while maintaining high-quality jewellery pieces on an international level. By usign South African craft in a new and modern way, Botha aims to develop skills while simultaneously creating jobs.
Future objectives entail creating a self-sustainable community of crafters in the Johannesburg region, as well as skills transfer through community workshops.