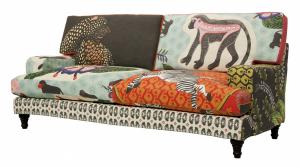 Standard
Halsted aims to execute on one simple vision: to transform African art into global design. Rooted in Africa, its contemporary designs reflect the continent's art and design talent in a myriad of different ways.
Based in KwaZulu-Natal, Halsted - The Ardmore Collection is committed to consistent superior quality and highly regards the responsibility that comes with operating in Africa. The company looks to discover, develop and distribute luxurious designs that will play a role in sustaining the creative lives of the continent's artistic community.
Forty artists collaborate under the mentorship of Ardmore's award-winning founder, Fee Halsted, to create pieces that feature in fine art collections and exhibitions around the world. Through Halsted, founded in 2011, Ardmore takes its distinctive creativity, wit and luxurious styling into a new generation of functional items such as tableware, textiles and stationery.