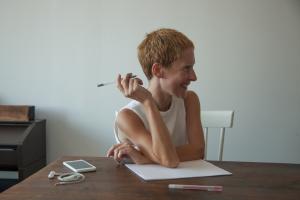 Speaker
Award-winning information designer and artist, Giorgia Lupi's work in information visualisation frequently crosses the divide between digital and print, exploring visual models and metaphors to represent dense and rich data-driven stories. Her work and research challenges the impersonality that data might communicate, designing engaging visual narratives able to connect numbers to what they stand for: knowledge, behaviors, people.
Lupi is a co-founder and design director at Accurat, a data-driven research, design and innovation firm based in Milan and New York and obtained a PhD cum Meritum in Design at Politecnico di Milano, in 2014. She is also the co-author of Dear Data in collaboration with data artist Stefanie Posavec. Dear Data has been recently nominated for the DesignMuseum Beazley Designs of the Year 2016, and is among the finalists for the Innovation By Design Awards 2016. Dear Data has recently been acquired by the Museum of Modern Art to form part of its permanent collection.
Her work won important awards such as the Gold Medal in Data visualisation Projects and Most Beautiful Projects at the Kantar Information is Beautiful Awards 2015, Gold Medal for data journalism at O'Reilly Strata, Bronze Medal at Malofiej 2013, Bronze Lion at Cannes Festival 2013. She has also been awarded with the prestigious "Lezioni di Design" Prize within the Design Week, Milan, 2016. Lupi's work has been published and featured on the New York Times, Wired, the Guardian, Boing Boing, Brainpickings, Time Magazine, The Washington Post, The Huffington Post, Forbes, Slate, Flash Art, Art Tribune, the Daily Mail, Vogue, Vanity Fair, Print Magazine, Scientific American, The Creative Review, Fast Company, and Popular Science.
She exhibited at the Science Museum in London, the New York Hall of Science, The Storefront for Art and Architecture in New York, the Triennale Museum in Milan, The Petach Tikva Museum of Art in Israel, Somerset House in London, the Milan Design Week 2016, among more. She has been a judge for the Kantar Information is Beautiful Awards 2014, 2015, 2016, and for the IxDA Awards 2017.