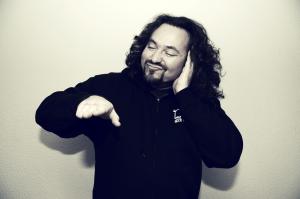 Standard
Fletcher is one of South Africa's pioneering DJs and electronic music producers. A legend in music production and the art of bass-heavy subsonics, Fletcher put the sound of Cape Town firmly on the map in the early 90's and is here to make sure it never strays. Picking up a taste for bass music while partying it up on the UK Bristol scene in the 90's, jungle and trip hop were a critical turning point in his musical education. Back in South Africa he started playing sets in the chill rooms of local raves, dropping breakbeat records over samples lifted from children's nursery rhyme records, nature sounds and old rugby match commentary. Moving back to Cape Town in 1997, he formed the DJ crew Krushed & Sorted with partner-in-crime Roach and Lox, which was also the foundation of the now-legendary label African Dope Records.
It wasn't long before Fletcher got the urge to start producing his own tracks. He bought a Pentium 1 computer and a Yamaha A3000 sampler, and began sampling everything he could get his hands on. This resulted in the release of Krushed & Sorted's "Acid Made Me Do It" album in 2000 and the foundation of African Dope Records.
The next few years saw him producing, mixing and mastering all the releases on the African Dope Records label, amidst a busy schedule of European gigs.
Over the years Fletcher has had the privilege of playing alongside many of his music heroes, including Goldie, Massive Attack, The Freestylers, General Midi, Krafty Kuts, Seeed, and DJ Vadim, to name a few.
Long late nights in the studio with English blag artist extrodinaire Juan Thyme, a large posse of Rastafarians from the Gugulethu township, and kilograms of hashish resulted in the "African Dope Soundsystem" album, which took this multicultural group all over Europe in the summer of 2005 and 2006, performing alongside reggae greats like Gentleman, Morgan Heritage and Rita Marley.
Fletcher has always produced music for films and commercials, and formalised this by setting up Krushed & Sorted Studios in 2006, catering for the burgeoning local film industry with sound design and eclectic compositions.
Nowadays you'll find Fletcher out in the Cape Peninsula, producing a variety of music from his home studio and looking very wobbly on a longboard.
He is endorsed by Native Instruments (Traktor Scratch) and AKAI (APC40) and is Ableton Live's biggest groupie.
Never content to get stuck in any one genre, you're just as likely to hear him dropping the cutting edge of dubstep, drum n bass and bass heavy break breaks as spinning his gran's collection of swing jazz, funk and Latin. He teams up with partner-in-crime Honey B at Zula Sound Bar on Thursday 28 Feb at 01:40.