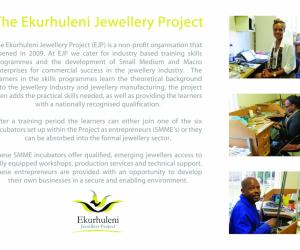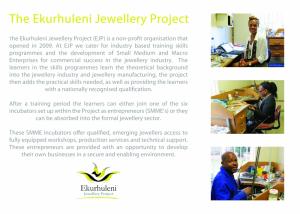 Standard
The Ekurhuleni Jewellery Project (EJP) is an enterprise development, industry training center and jewellery manufacturing organisation. EJP offers MQA accredited skills programmes, which vary in length and have specific outcomes aligned with industry requirements and individual development. The available skills programmes include an introduction to working in a jewellery manufacturing workshop, production of jewellery, basic hand skills training for the production of jewellery, basic polishing of jewellery (mechanical and traditional methods) and final finishing of jewellery.
The first intake of 12 learners from Ekurhuleni communities, have been trained since March 2009 when EJP opened its doors. The training consists of providing necessary theoretical background and developing practical jeweller's skills. There are several options for the trainees to utilise their newly acquired skills after graduating from the programmes. These include joining one of the six incubators set up within the project as entrepreneurs (SMMEs), joining the formal jewellery sector or furthering their studies with Design @ 50 for rapid prototyping skills and computer aided design (CAD).
Since its opening, the programme has trained 50 students and 20 incubatees, with a successful uptake of 30 students into full-time positions in the jewellery sector and has achieved commercial viability for 50% of its incubatees since inception. The project is able to produce high-quality jewellery at competitive prices to ensure the future sustainability of the project.
The incubators (mini-workshops) can accommodate 12 emerging jewellers. These jewellers have access to fully equipped workshops, production services and technical support. This allows them the opportunity to develop their own business in a secure and enabling environment. The workshops have been set-up with state-of-the-art equipment.