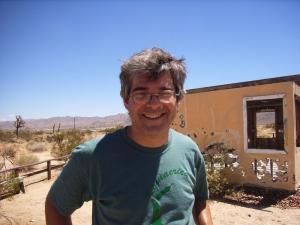 Speaker
Eames Demetrios is a filmmaker and the geographer-at-large for Kcymaerxthaere, a parallel universe largely coexistent with our linear world. Described as "three-dimensional fiction", it is like a novel with every page in a different place – he has installed more than 65 sites in 10 countries.
In addition, as director of the Eames Office, founded by his grandparents, Charles and Ray Eames, he communicates, preserves and extends their work. This has evolved into many products and partnerships and Demetrios also consults with companies, attempting to connect them with the power of design in its deepest sense. His book, An Eames Primer (2002), is taught in many schools, and he has given lectures around the world in 30 countries on topics ranging from science to design, sustainability and his own work.
Finally, he is a leading exponent of the need to understand scale and Powers of Ten Thinking, which will include an international Powers of Ten day on 10/10/10.