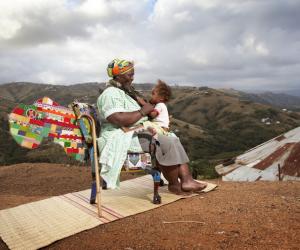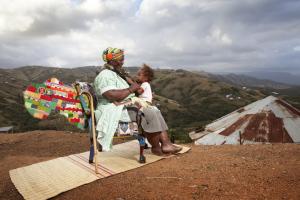 Standard
In 2009, 160 women from the Valley of 1000 Hills in KwaZulu-Natal came together to create a legacy of hope, something that will remind them that they too can dream and build a future for themselves. Eight weeks later the women of the Woza Moya income generation project finished their creation: The Dreams for Africa Chair.
Each bead worker brought a piece of beading with their dream for Africa embedded in the piece. The pieces were then patch-worked onto a reclaimed chair. The chair has travelled around South Africa inviting people from all walks of life to sit in the chair and share their dreams, and to tell their stories.
We invite you to tell South Africa and the world your dream. Masibambisane. We are working together
Woza Moya collected dreams from people famous and ordinary, every dream was important. The chair has continued to travel around the world collecting dreams and inspiring hope in all who sit in it. It has been to New York twice, and recently spent a year travelling to Holland and Germany raising HIV/AIDS awareness, and funds for the Hillcrest AIDS Centre Trust. The Dreams for Africa Chair was voted the Most Beautiful Object in South Africa at the 2011 Design Indaba Expo - making the creators, The Woza Moya Crafters, the "most beautiful women in South Africa".
The chair, made by one of the country's most disempowered and voiceless communities in rural KwaZulu-Natal, has inspired nations to dream again.