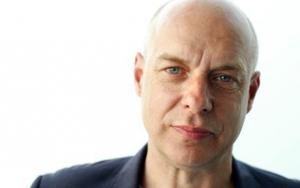 Speaker
Brian Eno has become an iconic figure within international contemporary culture. As an artist, musician, ideologue and systems-maker, he has not only written, performed, recorded and produced some of the most intoxicating and original music of the past 30 years, but has also established a philosophy of cultural production that links the enquiring spirit of conceptual art to the broadest applications of popular culture and sociology.
Best known in the field of music, Eno's discography as a musician, producer and artistic collaborator includes some of the most acclaimed recordings in the history of modern music. Seminal artists such as John Cale, David Byrne, Laurie Anderson, David Bowie, Bono, Peter Gabriel and Paul Simon have chosen to work with Eno. He is one of the most sought after figures working across the spectrum of contemporary music, from guitar-driven rock to film scores and electronica.
Yet music is only one strand of Eno's creative project. As a lecturer, visual artist, writer, political activist and futurologist, his opinions and ideas have been requested by institutions and think tanks on subjects as disparate as concepts of time, urban futures, perfume making and the history of art. The publication of his diary in 1995, A Year With Swollen Appendices, by Faber&Faber, proved a bestseller and gave some indication of the extraordinary range and diversity of Eno's activities.