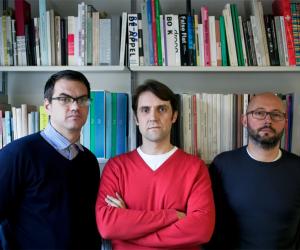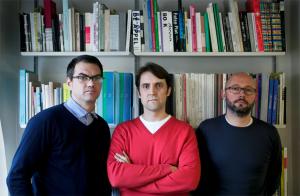 Speaker
Bibliothèque is a London based design consultancy that produces captivating design solutions, underpinned by conceptual thinking, meticulous attention to detail and innovative production. A varied list of clients from a range of sectors seek out Bibliothèque's expertise in corporate identity, brand consultancy, printed literature, marketing and exhibition design.
The consultancy was established in 2003 by Tim Beard and Mason Wells, formerly of North Design, and Jonathon Jeffrey, formerly of Farrow Design. Previous experience includes working on the rebranding of the RAC, Telewest and Land Registry, as well as creating award-winning work for clients such as Levis, Kylie, Pet Shop Boys and Spiritualized, amassing six coveted D&AD Pencils.
Industry recognition includes being jury members for many awards schemes, numerous lectures, nationally and internationally, and providing industry experience to a number of academic institutions. Clients include Adidas, Motorola, Sony, Nokia, Nike, Natural History Museum, Science Museum, Design Museum, Covent Garden, Barbican Gallery, British Library, V&A and D&AD.
Their public profile is deliberately quiet, preferring to focus on the projects and let the work speak for itself. Bibliothèque is passionate about design, its importance and the power it has to engage with the public when executed successfully.