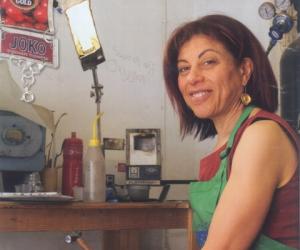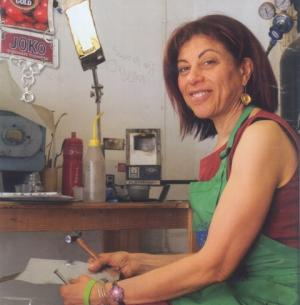 Speaker
She trained as a jeweller in Israel and London (with Sir John Cass), and completed her post-graduate fine arts studies at Wits University. Her interest is to stimulate the long-term development of a hybrid style of South African jewellery that melds our South African indigenous adornment and Western jewellery practices as well as to promote debate and a growing visual discourse in the form of art jewellery and a recognisably fine South African design. She works across the paradigms of goldsmithing, fine art, craft and design, making large sculpture and small works.
In her products and exhibitions here and overseas she reflects her intention in post-apartheid South Africa to by-pass the inherited European Arts and Crafts Movement origins that have historically permeated jewellery making in South Africa, and to predicate an alternative discourse upon important events such as the gold-making at Mapungubwe (where the golden rhinoceros was found in 1937 and "kept quietly hidden" until 1994) – this to vindicate our pre-colonial origins of "gold and jewellery acumen". She works with and trains a group of women from Alexandra Township to make her iconic necklaces and jewellery that is now exported and sold at shops such as Octopus in London and through Jennifer Fair at the Georges Pompidou Centre in Paris as a consequence of their exposure at Design Indaba 2005.
In January 2006 she completed a large experimental project with the assistance of Anglo Gold Ashanti to translate a non-precious design into a fine gold-based piece on the jewellery finds at Mapungubwe.