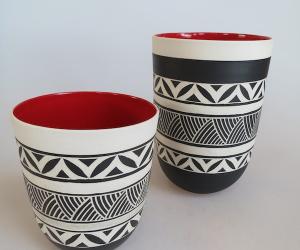 Standard
Art in the Forest is a thriving ceramic centre with full-time artists and associate artists who rent cubicle space and a communal space. The gallery showcases up to four ceramic exhibitions per year featuring leading South African ceramicists. Its studio produces for clients locally and internationally with a strong focus on mentorship. Under master potter Shapiro's watchful eye, artists are trained and mentored. They produce the centre's well-known studio line, Forestware, recognised as a leading ceramic brand locally and internationally.
Art in the Forest's primary missions are job creation through its mentorship programme and giving children a place to experience creativity and joy. As a commercially successful potter, Shapiro draws on his understanding of product development to enable the artists to produce work geared for retail. Art in the Forest gives its mentored artists a space to grow their creativity, develop a discerning eye and build self-esteem by understanding the principles of good design, marketability and how to present a coherent range to the public.
The studio offers ongoing pottery classes and workshops. Profits made at Art in the Forest are donated to the Light from Africa Foundation and are used to give free pottery classes to children who have no access to any art education at school, as well as therapeutic clay sessions facilitated by an art therapist.
Linda Khuzwayo is a resident artist at Art in the Forest. Born in Port Shepstone, KwaZulu-Natal, he has been captivated by patterns and drawing for as long as he can remember. His brother-in-law, Elias Lulanga, introduced him to the famous Ardmore Studios where he spent several years experimenting with various expressions of decoration.
Khuzwayo then moved to Cape Town where he worked at Light from Africa Ceramic Studios and then Theresa Wormser Ceramics before joining Art in the Forest in 2014. Under the mentorship of Shapiro, he has learnt new decorating skills, produced a magnificent range of carved ceramics and started to mentor another young ceramic artist.
Khuzwayo has developed his own style of decorating with scraffito, coloured slips, oxides and underglaze colours. He draws his inspiration from daily life and from the patterns imbued in the rich Zulu culture he was born into. Every piece speaks of unhurried observation and care. He achieves this through his attention to symmetry and daring as well as inspirational colour combinations, giving each piece their unique personality.
* Khuzwayo transformed a Carry Table for the CREATe.CHANGE initiative at Design Indaba Expo 2015.