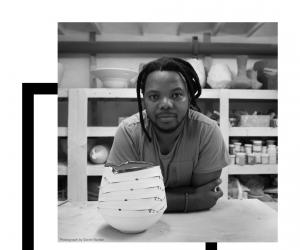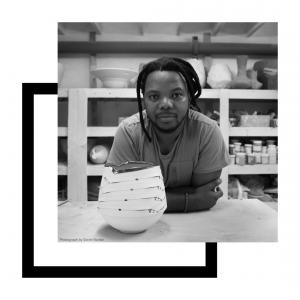 Speaker
Majolandile 'Andile' Dyalvane is the founder of Imiso Ceramics, a Woodstock-based studio that produces exclusive but functional once-off pieces. Dyalvane crafts earthy and elegant ceramic works. Born in a small village in the Eastern Cape province of South Africa and his work draws inspiration from his Xhosa heritage and his contemporary urban life. His work has exhibited his work around the world.
As a well-travelled designer, he prides himself as being South African and presents it through his work at every opportunity. Clay gives him the ability to create something beautiful, valuable and usable with four elements of life: earth, water, fire and air.
"Clay breathes, it's alive with becoming and moves with my energy, listens and holds only what I've impressed upon it – it remembers and let's go in the fire then becomes stronger. If clay was a song it would sing of the layers of life really, it's the creators deepest perhaps."
At Imiso Ceramics he creates vessels, platters and home furnishings covered with abstract designs and human figures. His "Scarified" collection is inspired by the traditional Xhosa practice of scarification (ukuqatshulwa). Treating the clay like skin, Dyalvane cuts the surfaces of the pieces in this collection with lines and patterned marks.
Dyalvane showed his work in a prestigious solo exhibition at Friedman Benda in New York City in 2016.