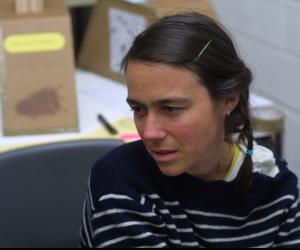 Speaker
Amy Franceschini was born to a farming family and grew up in California's San Joaquin Valley. She graduated with a BFA in photography in 1992, and went on to further her studies in design. In 1995, she formed a partnership with Laude and Macrone, and founded the online magazine Atlas, which has since won numerous awards for its dramatic and unorthodox approach to online publishing.
In 1995, she formed Futurefarmers. The studio has gained international acclaim for its uniquely evocative visual style and fresh approach to design. Equally comfortable in new and traditional media, Futurefarmers have completed distinctive print and electronic assignments for clients including Adobe, Swatch, Hewlett Packard, Levi's, Autodesk, Nike, LucasFilm, Wired, Frogdesign, NEC and MSNBC.
In 1997, the Atlas website was selected as the first to be included in the permanent collection of the San Francisco Museum of Modern Art. The site has won two Webby awards (the equivalent of an online Oscar) for art and design, and has won many other online and publication design awards.