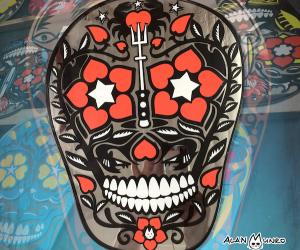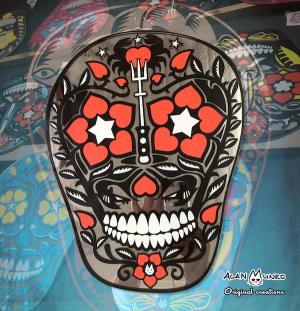 Standard
Alan Munro is a design company that produces handcrafted design items for the discerning buyer and collector. The business was started one year ago, starting off literally in-(the)house, before moving to a small studio space in Woodstock, Cape Town.
The current range, the Al Muertos collection, is a series of hand screen-printed mirrors. The range of mirrors take their reference from the Calaveras tradition of the Mexican "Dia de Muertos" (Day of the Dead), which happens annually on the 1st November (preceded by Halloween on 31st October).
Alan Munro elaborates, "As the name Al Muertos suggests, they are a playful look at the universal questions of mortality and the passions of life as reflected in the natural (and supernatural) symbols and icons that speak to me on my journey through this crazy life."
All the work including design, production, marketing, sales and packaging, is done in-house. The only outsourced item is the shaping of the mirror glass.
In November 2014 the range was unveiled for the first time at an exhibition held at Cabrito in Green Point. All 20 mirrors on the show were sold. The next phase is to expand the business into other collectible items, featuring more unique designs from Munro.