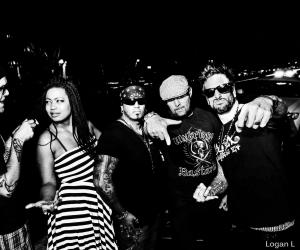 Standard
In this age of neatly categorised and ordered everything, it's refreshing to see a musical act willing to blend genres and constantly challenge cultural contexts in order to challenge our perceptions of sound. In the case of A.F.Botz, this desire to design a sound results in a "revolutionary" fusion of hip hop, rock and what the band calls "other experimental influences."
Collectively they blur musical boundaries, push social norms and fuse genres in a most unique, daring and unforgettable way; collaborating with a number of renowned DJs within the South African scene and creating magical energy with several respected heavyweights in the industry such as Jack Mantis, The AF.BOTZ are undoubtedly a force to be reckoned with.
The AF.BOTZ celebrate diversity, cross genres and boldly challenge cultural contexts, rejoicing in their individual, unique approach to their art and showcasing their talent with a combination of unhampered energy, style and vigour.
To see them perform live is to understand that all genre descriptions are in effect, henceforth, meaningless! See why when they perform at Design Indabar on Wednesday 27 Feb at 18:45.
BuddHaddA
Adam Lindberg, aka BuddHaddA, and son of Des and Dawn Lindberg – the '60s South African folk singing legends and theatre couple.
Adam is a veteran to the entertainment scene with five albums under his belt to date, namely: Brothers Bruz, The World According to Gordan Garden Keep Shining Golden, Free Flight Coalition, Stigmata Urban Legends, BuddHaddA and Mr Mo present Jimmy Bling Bling and B Lovely, 7 Ounces Of Plankton by The Grime Council, and his solo album, The Dirty Roots of The San Geedo Tree.
He now effortlessly adds a new perspective into the arena of vocal potent motion poetry, flipping the lyrical line and mind frames with his insights and flows bled from a deep intellectual South African mind state of empathy, survival, struggle, passion and grace with an enlightening familiar genius that invokes any mind into a search for questions and the ability to provide the answers within BuddHaddA's unique pioneering word tapestries and abstractions.
Mimi M
Mimi, the AF.BOTZ leading lady, is the personification of a soulful diva with the velvet larva that can fuel and ignite any soul.
The supernova of talent broke onto the scene with the cultural heritage stemming from her jazz roots, nourished with the versatility to embrace and emblazon the genesis of this modern music genre.
In 2007 Mimi was part of the experimental electro-band, Grime Council. She then took a break to have an "AFBOTLET" but this mamma-bot could not be silent for long and in 2011 she debuted her solo comeback at the Pepper Club spicing it up on the jazz extravaganza.
Her rise from her reintroduction into the scene gave her many opportunities, such as being a radio goddess alongside Soli Philander on her own radio show called Bumper To Bumper.
Her talents are regularly featured at the International Jazz Club, Kennedy's, nestled in the heart of Cape Town's culture collective – Long Street.
Mimi M brings the well-needed sensuality and power of one of South Africa's most bright and most revered voices of her generation.
The AF.BOTZ are an unstoppable force, an unhampered experience, a truly surrealistic, unforgettable act and a pioneering duo of undeniably talented artists – effortlessly living up to, and coining the title of The Swiss Army Knife of Bands.