FilmFest 2018

Design Indaba curates an eclectic programme of film each year for festival goers – including feature films, documentaries and shorts on creativity – all premieres to the African continent.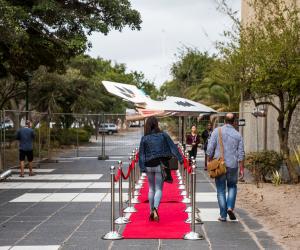 Experience the best of film around creativity and design; from documentaries about various creative disciplines and figures to quirky and artistic creative expressions simply made in the medium of film; to international award winners on the film circuit that speak to the Design Indaba ethos of "A Better World through Creativity".
Our programme is not limited by genre, format or theme. Simply expect a refreshing, globally relevant foray into film that's leading the way in creativity.
Final lineup to be announced in 2018. For a taste of what to expect view some of our previous film features.
Event Information

Event Information

Wednesday, 21 February, 2018 (All day)

to

Friday, 23 February, 2018 (All day)

Venue: