antenna is a platform for young, international design talent, initiated by Design Indaba and Dutch Design Week.
Distinguished by their ideas that respond to some of the world's most pressing issues, the conference provides a platform for emerging graduates who are creating designs with the potential to change the world for the better.
Beyond this opportunity for emerging design talent, it also provides the unique opportunity for design friends and industry players to experience first-hand the innovations across an array of disciplines and mediums. All on one stage!
Since its inception in 2017, antenna has seen innovations in healthcare, architecture and housing, food design and even a sustainable way of dying, amongst many other mind blowing concepts. The work presented inspires a fresh optimism for the often uncertain future we're facing.
This year we've curated a roster of 20 graduates from around the globe who will present their projects at the third edition of antenna, a global scan of the new trajectory in design.
Over the next few weeks we will introduce you to our participants. Meet the first ten:
Artificially and materially intelligent architecture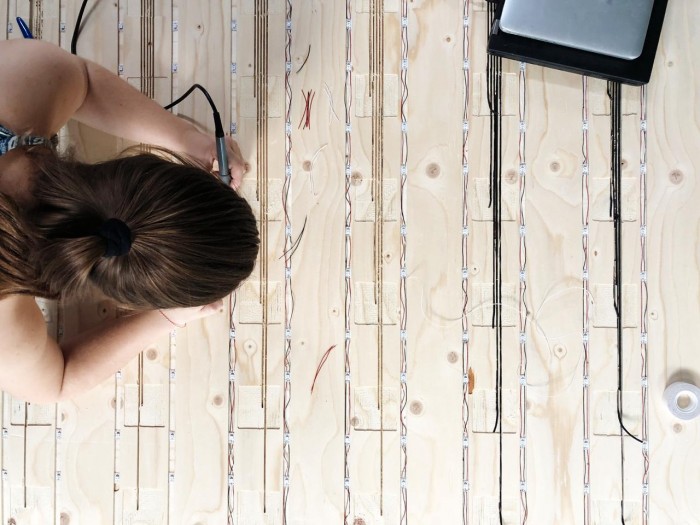 Synapse is a designed system by University of Institute for Advanced Architecture of Catalonia, Nikol Kirova that focuses on artificially and materially intelligent architecture. Kirova created a system that can sense analyse data by generating intelligence information and creating a dialogue between public spaces and its users.
Synapse can provide accurate, anonymous and large-scale spatio-temporal information. It has the potential to reveal dynamic occupancy maps, trend prediction, and real-time urban interaction pedestrian information.
At the centre of her project is graphene material which is one of the most promising nanomaterials, and a great conductor of electricity. Kirova wants to use the material as an urban scale proposition for monitoring data of urban flows in cities.
"The full potential of the project will be realised when paired with other existing urban information (land use or mobility data) transforming the urban environment into a fully responsive one," says Kirova.
A wearable art piece that explores the connection between aroma and our brains
Interdisciplinary designer, Claudia Adiwijaya, designs products around social change and effective storytelling. Her project, Essentia, is a wearable art piece that explores the connection between aroma and our brains.
Essentia aims to identify the potential effect aromas from everyday objects have on us, and how smell can offer more enriching possibilities for the human experience.
"Essentia strives to address the underlying and layered value of the human sense of smell. It encourages the public to trust their primitive "mute instinct" to navigate and improve their well-being -while exploring the power of aromas and memory," says Adiwijaya.
Sound has the power to evoke emotions, and connect people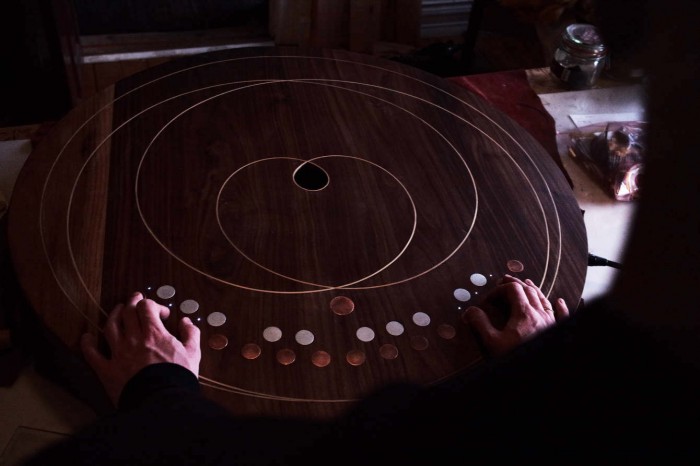 The importance of sound forms the basis of the Icelandic Academy of Arts graduate, Úlfur Hansson's, project.
The musician created an instrument, called Segulharpa, a magnetic harp that carries vibrations, so that the strings influence each other, creating a kind of ecosystem where no two chords will share the same sound.
It has touch sensors which are embedded into the grain of the wood, and as the player touches the surface, wonderfully complex interactions are created inside. This allows players to create their music by means of vibrational patterns.
Each string can produce high- or low-pitched sounds, depending on how hard the player presses a given key. The sensors are illuminated with brilliant white lights, glowing brighter as the player presses harder down on the surface.
When no one believes you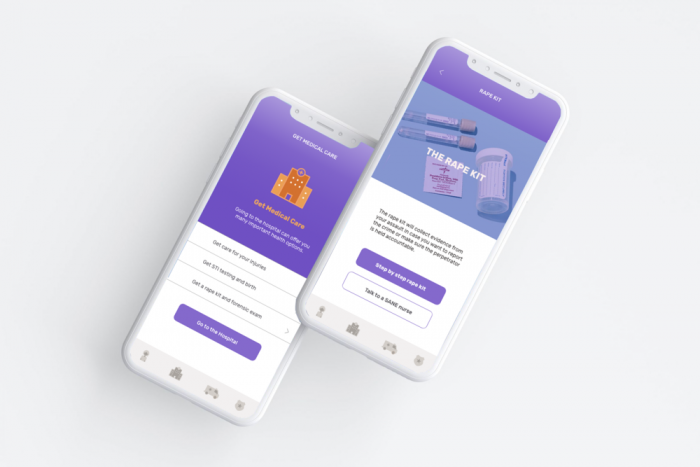 Antya Waegemman is a graduate from the School of Visual Arts in New York City who recognises that sexual assault is a pressing global issue, specifically in the USA where she is based. According to Rainn (Criminal Justice Statistics), in the USA every 92 seconds, someone is sexually assaulted, and only 30% of sexual assault victims report the crime.
These statistics led Waegemman to create a redesigned rape kit, called When No One Believes you. The kit is a response to sexual assault and it contains six different design interventions for use by victims, nurses and police. This includes an emergency sexual assault resource app, a product that detects DNA during the exam, and a rape kit tracking system.
The product aims to increase report rates, improve the experience of having to use a rape kit, and increase rape kit testing. It also aims to reduce stigma and shame around sexual assault, and to increase accountability. Waegemman wants this project to be an example of how design can shape accessibility in governmental and bureaucratic systems.
Affordable and clean energy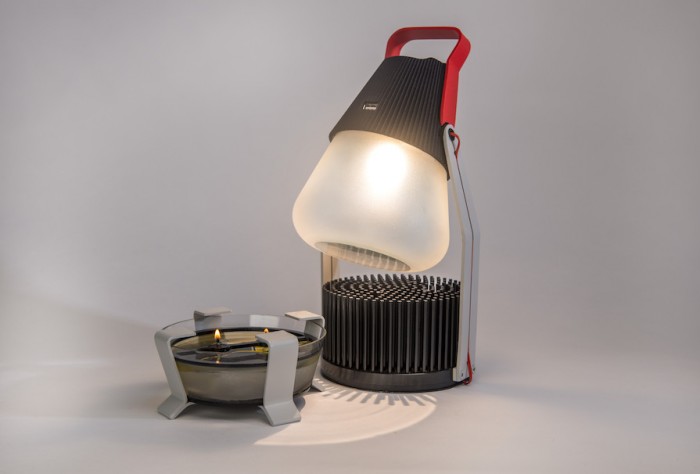 IGNIS by student, Tobias Trübenbacher, from the Berlin University of the Arts, is a power generator that offers electric power and light in a sustainable and self-sufficient way. It is intended for outdoor use in remote villages in dire need of electricity after natural disasters or a crisis of some sort.
The 22-year-old created IGNIS by using Peltier elements to transform heat into electricity and to enable it to store light and power in order to provide it whenever needed. IGNIS can either be placed on a hot stove or produce heat by burning ordinary household liquids such spirits, used frying fat, or any oil.
In 2019, Trübenbacher was one of the 20 winners in Beyond Bauhaus, an international competition for designers and design students.
Creating writing materials out of biosolids
Pratt University graduate Garrett Benisch discovered that New York City processes 1.3 billion gallons of sewage every day. This sewage is treated using micro-organisms which in turn convert the waste into biosolids.
While the city used these biosolids to enrich the soils of the city, now 2.8 million pounds of this make their way straight to a landfill every day. Benisch recognised that these biosolids could be used in a useful and sustainable manner. He thus created Sum Waste, a pen whose barrel and ink are both made from treated biosolids.
Benisch worked together with the New York Department of Environmental Protection and an independent polyhydroxyalkanoate, or PHA producer, to create this product. The young designer believes that this project can create a relationship between New York's waste management and the citizens of the city.
Removing the heteronormativity from SEX-ED
Jack Newbury's Department For Inclusive Education seeks to create inclusivity and equality in sexual education with his Inclusive Sexual Education Kit. The Central Saint Matins student's project was born after the British Department of Education introduced Relationships and Sex Education [RSE] for secondary pupils.
However, this program failed to include sexual education relating to members of the LGBTQI+ community.
By omitting this information, Newbury believes the department is doing an incredible disservice to its students. Newbury's Inclusive Sexual Education Kit includes materials, tools and information to help educate kids about sexual pleasure, practices, consent, gender, identity and body image.
According to Newbury being inclusive and educating students about all avenues regarding sexuality can only serve to benefit them, and this approach tackles the heteronormativity that surrounds sexual education.
Viking-Inspired Seaweed Thatching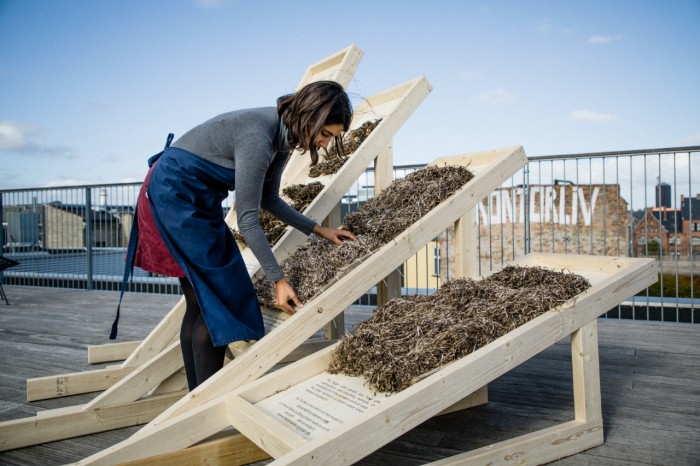 For generations the island people of Læsø, just off the coast of the Danish mainland, made use of eelgrass, a type of seagrass found in Scandinavia and the British Isles, to create massive thatched roofs. This added a unique element to the island's vernacular architecture.
Inspired by these thatching methods, Copenhagen School of Business and Design student Kathryn Larsen set out to create pre-fabricated thatch panels made from eelgrass for her project titled Seaweed Thatch Reimagined. These panels can be installed as a facade or roofing material that is slightly more minimalist and modern than the old Scandinavian thatching methods.
The eelgrass material, while rare, is a useful and sustainable building material. It is rot-resistant, fireproof, carbon-negative, waterproof and is also an insulating material. Larsen believes that there are ways to harvest and use this material without damaging the surrounding marine life.
Incorporating algae into our everyday lives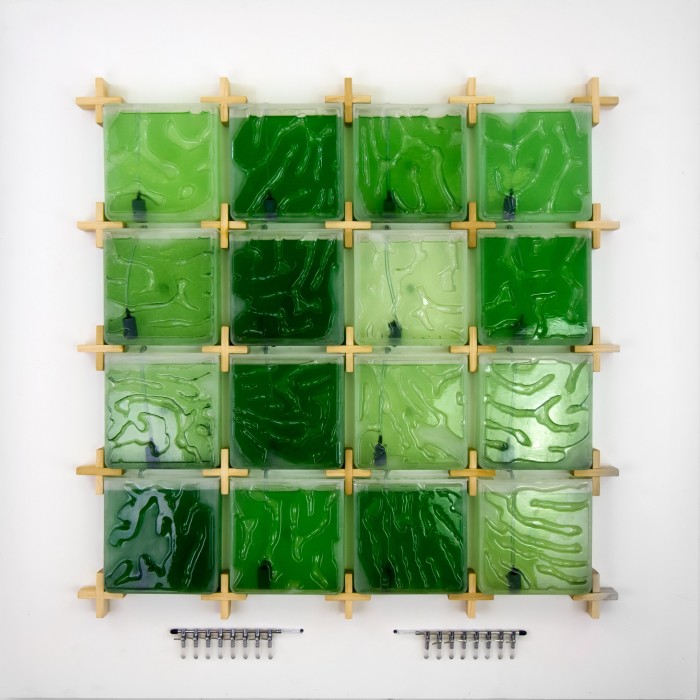 In 1974, the UN World Food Conference recognised that algae may be 'the most ideal food for mankind', as it contains more than 65 different nutrients and minerals. However, not only does it serve as a sustainable food source for humans and marine life alike but it is also plays a role in the balance of oxygen and carbon dioxide in our atmosphere.
Algae is said to produce nearly 70% of our oxygen and serves as an incredible CO2 absorber at the same time. Rhode Island School of Design student Hyunseok An recognised the significant possibilities contained within algae, and created The Coral, an indoor micro-algae farm.
The farm helps people incorporate the benefits of algae into our everyday lives. The microalgae farm is made up of a wall-mounted bioreactor that's divided into 4x4 cells containing 2 grams of algae each, the recommended daily intake of the organism. The farm allows individuals to grow and eat algae every day as the cells contain a biweekly cycle that requires replenishing after harvesting.
A unique journey to the East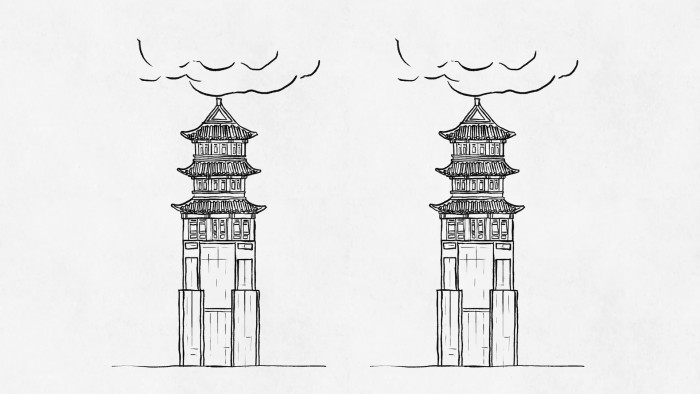 China has fascinated explorers, researchers and cultural enthusiasts for eons. Its rich and diverse culture, immaculate architecture and complicated history are just some of the reasons why the world remains fascinated with this Asian nation.
University of Applied Sciences FH Joanneum Graz student, Christian Leban, spent six months living and experiencing many elements of China. As part of his master's thesis, Leban wants to take you on a journey to the east, through the lens of an animated short film.
Titled 'Views of China', the project is made up of 11 hand-drawn, animated loops that explore the fascinating country by using unique concepts - from the most beautiful elements to be found there, to areas of conflict in the country.
Read more:
Turning refugee bunkers into privacy pods using minimalist design
Inclusive, human-centred furniture for the disabled
What will food look like in the future, especially for the elderly